Free FLAC Player
Screenshots of Free FLAC Player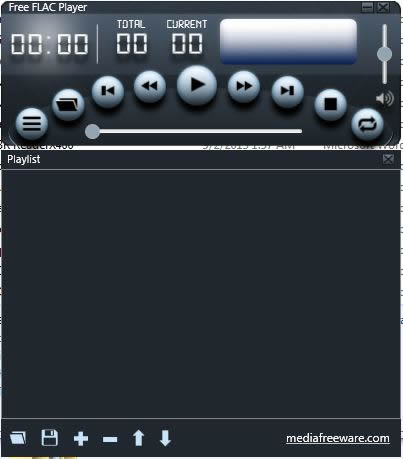 Last update
Licence
OS Support
User rating:
7 August, 2013
Free
Windows XP, Windows Vista, Windows 7
Free FLAC Player
Free FLAC Player is a simple audio player application for playing your FLAC music files or Free Lossless Audio Codec files. The performance and simplicity of this player makes it a unique choice among so many other players on the internet. The user interface of the application is very good looking and it is very easy to use. You can control the playback like increasing or decreasing speed, Play, Pause, Mute and all common controls in any audio player. You can control volume level by scrolling your mouse wheel over the volume slider and can move forward or backward by scrolling it on the progress slider too. The playlist window is shown at the bottom and it acts like a filter when you drag and drop files over it because there is no chance of dropping wrong files over its window so the error will never happen. The playlist function is great because it is very customizable. You can Add, Remove, Move up and Move down your music files and save your playlists to standard m3u files. Also, you can open playlist files and play them with this player. Shuffle function is also available to randomize played list. Some key features of Free FLAC Player are:
Plays FLAC music files
Open and Save standard playlist files with m3u extension
Smart drag and drop function makes it easy to open files
Shuffle playlist to randomize the order of playing
Nice and easy to use user interface
Minimum system resources used for better performance
Compatible with any versions of Microsoft Windows which run .NET Framework 4
.