Free Youtube Downloader
Screenshots of Free Youtube Downloader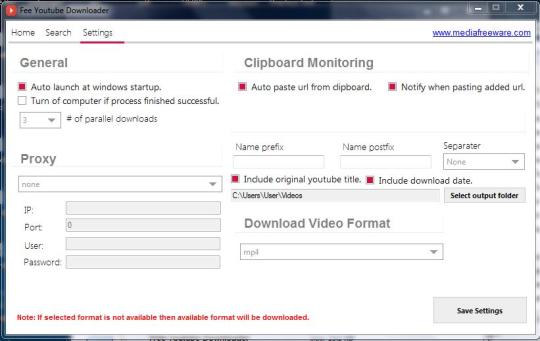 Last update
Licence
OS Support
User rating:
29 July, 2013
Free
Windows XP, Windows Vista, Windows 7
Free Youtube Downloader
Free Youtube Downloader is one of the best Youtube downloaders on the internet proudly presented by Media Freeware. It is a small yet powerful Youtube downloader with great speed and performance. The app has many great features which makes it unique. You can download multiple videos at once with no problem and even you can change the number of simultaneous downloads in the "Settings" tab. The "Auto paste Url" makes it easy to copy the links to the app; no need for paste. Just copy desired link and the app pops up and pastes the link in the URL text box. All links are processed for validity prior to downloading videos. So don't worry about dropping the app to a false loop. "Add Bulk URL" is a great feature which its job is to accept a list of Youtube links with one click. So if you have many links then use this function please. There is a proxy section in the Settings tab which comes very handy if you are connecting to internet beyond a proxy server. This way you can enter your username and password and make the app download videos through that proxy server. A great feature of the app is that the format of downloaded files can be set before downloading so that no conversion is needed after the download is finished. This way you don't have to put your PC under heavy conversion process anymore. The supported formats are mp4, 3gp, flv and webm. Some key features of the Free Youtube Downloader are:
One of the best Youtube video downloaders on the internet
Multiple downloads supported simultaneously
Video formats can be set before downloading
There are 4 video formats available: mp4, flv, 3gp and webm
Compatible with all versions of Microsoft Windows
.