Free Virtual Piano
Virtual Piano is a free fun application that turns any windows pc into a full size piano. Make fun songs, record them, and save them as mp3 files!
Virtual Piano is a free software that allows you to play and record songs, by simulating a real piano. It has a very stylish interface, displaying a beautiful piano with keys you can click on. After you play for a while, you realise that all of the piano keys are mapped to your keyboard, ranging from 1 to m (that would be 1 to 9, 0, q to p, a to l, z to m). Also, if you are on a selected key, pressing space will play that sound. All the keys have a code, so you can create your songs more easily.
Virtual Piano allows you to record what you are playing and save it locally, on your hard disk. It also allows you to select your input device (if you want to record something from the microphone as well) and output line.
For all types of users, ranging from amateurs to experienced people, this software is a lot of fun! If you've played the piano before, I bet you've never tried composing songs directly from your keyboard. If you're a newbie and you fancy the idea of playing the piano someday, you should definitely give this a try first and get familiar with the audio notes. It's intuitive, you learn it fast, not to mention it's surely cheaper (unless you manage to get a piano for free).
But what I think is really awesome is that, especially for newbies, it allows you to play a real song really fast. You know how all songs have music sheets, which you never understood? Imagine that with Virtual Piano, your music sheets will suddenly become readable. You don't have to know anything about music notes, all you have to do is follow the letters in the alphabetic music sheet. How cool is that? Here is a really really short sample of The Godfather. Have fun with it!

o-s-D-d-s-D-s-d-s-O-P-o o-s-D-d-s-D-s-d-s-o-I- i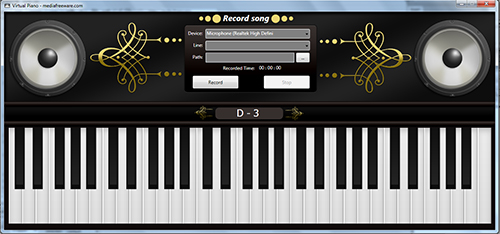 ---
2016-02-21 02:14:57 | Version 1.0.0

2015-09-27 18:27:54 | Version 1.0.0

2015-04-05 13:34:43 | Version 1.0.0
2016-08-05 13:52:03 | Version 1.0.0

2015-01-21 08:28:10 | Version 1.0.0

2016-05-14 00:44:46 | Version 1.0.0