Free Youtube to Mp3 Converter
Screenshots of Free Youtube to Mp3 Converter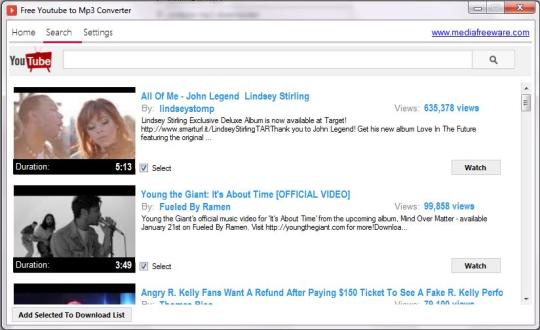 Last update
Licence
OS Support
User rating:
29 July, 2013
Free
Windows XP, Windows Vista, Windows 7
Free Youtube to Mp3 Converter
Free Youtube to MP3 Converter is a desktop application for converting Youtube videos to MP3 music files published by Media Freeware. It downloads Youtube files to your hard drive and after finishing them it converts downloaded files to MP3. Many times you may have wanted to listen to some music in Youtube but your portable music player does not support playback of video files. So here this app comes very handy since it does its job very fast so that you may not even know when it has finished the conversion. The application supports multiple conversions and this saves you a lot of time by reducing the conversion time. You can add many links at once by clicking "Add Bulk URL" button. It first checks the links for validity and then adds them to the conversion list. There is a search tab which shows you the home page of Youtube and if you are looking for a specific file then you can search for it here. You can add tags to your MP3 files easily. Also you can place comments on the files. The app also supports proxy server which means if you connect to internet through a proxy server then you can enter your credentials here so that the app downloads the files through that proxy server. Some key features of the Free Youtube Downloader are:
.